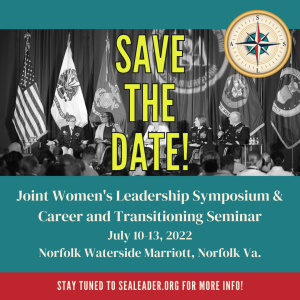 Washington, DC (November 28, 2021) – The Sea Services Leadership Association (SSLA) announces that its annual SSLA Joint Women's Leadership Symposium (JWLS) and Career and Transitioning Seminar will take place July 10-13, 2022, at the Norfolk Waterside Marriott in Norfolk, Va.
Each year at JWLS, SSLA offers mentoring, professional development and leadership seminars to members of all service branches of the military and to Department of Defense civilians. With an attendance of 900-1,500 attendees annually, SSLA JWLS is traditionally the largest gathering of women in uniform nationwide and has been recognized as the premier professional and personal development conference for women in the military.
"We are all emerging from this pandemic with a deeper sense of what really matters, both in our lives and in our professions. Our 2022 SSLA JWLS theme, 'Stronger by Helping Each Other,' gets after a dedicated effort to be deliberate about reaching out to one another. When women, men and those transitioning help each other, not only are we stronger ourselves, but the whole team is stronger. We learn that what really matters in our lives and in our professions is our relationship to each other," said SSLA President Capt. Emily Bassett. "SSLA JWLS is the premier place for gathering around inspiring speakers and sparking authentic conversations. Service women and men will leave SSLA JWLS 2022 armed with the strength of the whole team, free to focus on what really matters back at our units and our homes."
Past symposia have featured senior leaders from the White House, Congress, the Department of Defense and the private sector, including Secretary of the Navy Richard Spencer; Army Maj. Gen. Linda Singh, the first African American and first female leader of the Maryland National Guard; Army Gen. Laura and Army Lt. Gen. James Richardson, the only married generals in the U.S. Army; and Marine Corps Brig. Gen. Lorna Mahlock, the first African American female Marine General Officer. A full agenda for this year's conference, as well as the registration link, will be announced at a later date.
Along with the symposium, SSLA will also host a career and transitioning seminar aimed at service members preparing to retire and transition to a civilian career. The seminar will feature insight from guest speakers about their own transitions as well as a panel of pro-military civilian employers. Attendees will have the opportunity to participate in resume reviews, mock interviews, elevator pitch practice, the art of salary negotiation, mentoring and networking best practices.
Prospective attendees with questions may reach out to SSLA JWLS 2022 Chair Navy Cmdr. Lena Kaman at jwlshelpdesk@gmail.com.
"SSLA JWLS is the nation's premier conference for mentoring and professional development of military women due in large part to the engagement and participation of conference attendees," said Kaman. "Past SSLA JWLS attendees have lauded the symposium for its delivery of practical, immediately applicable knowledge and skills, and for the exposure it has given them to a wide range of high-profile leaders and organizations. This is truly a 'can't miss' event for women and men of all ranks looking to benefit from networking, mentoring, education, and leadership development training."
About The Sea Services Leadership Association (SSLA)
SSLA was established in 1978. It is currently the only non-profit organization in the United States dedicated to providing professional development through networking, education, and mentorship of women from all three maritime armed forces – the United States Navy, Marine Corps, and Coast Guard. SSLA is a national non-profit and non-political organization and an officially recognized affinity group for the sea services, continually advising the services about issues affecting Navy, Marine Corps and Coast Guard personnel and their families. SSLA also maintains partnerships with the Navy's Women's Policy Office and the Coast Guard's Gender Policy Advisors, as well as the United States Marine Corps' Office of Equal Opportunity and Diversity Management Branch and the National Oceanic and Atmospheric Administration Women's Association (NOAAWA).
To learn more about the SSLA Joint Women's Leadership Symposium and SSLA, visit https://www.sealeader.org/, or follow SSLA's Facebook, JWLS' Facebook, Twitter, LinkedIn, and Instagram.