We are the only national nonprofit organization dedicated to the mentorship and development of women leaders in the sea services and beyond. We provide support to women in all branches of the military through our annual symposium, online membership services and through local chapter affiliation networks.
Every year, SSLA hosts the annual
Joint Women's Leadership Symposium (JWLS)
, which is the largest gathering of women in uniform. We welcome men and women to join us, meet amazing trailblazers, find a mentor, and share best practices on how to best lead and inspire others! For more information,
click here
.
Follow JWLS updates here on Facebook, Instagram, Twitter and LinkedIn. Follow us, like us and share with us using these links:
We're always looking for people to join our amazing team, and your support of SSLA helps us grow our services and make our community better. Become a SSLA member to receive monthly newsletters, start a SSLA chapter, or volunteer for a leadership position on our staff!
Join SSLA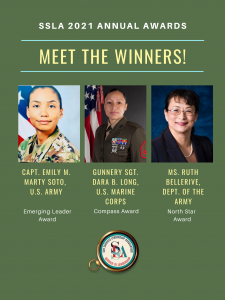 SSLA
Sea Services Leadership Association Announces Annual Award Winners SSLA Press Release Media Contact: Laura Stegherr, SSLA Public Affairs Officer, sslapao@gmail.com The Sea Services Leadership Association,
Read More »